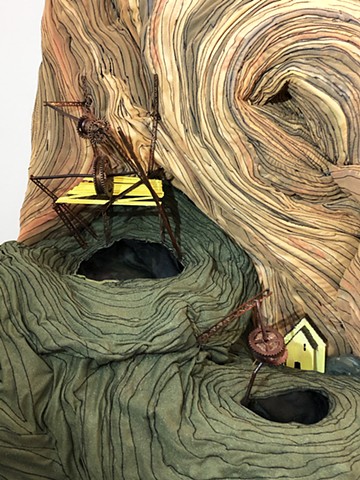 Lost and Looking
January 30-June 5, 2021
The Jack and Shirley Lubeznik Center for the Arts
101 West Second Street
Michigan City, IN 46360
Considering how place and loss affect us all, artists included in Lost and Looking confront the reality of our pasts and our futures. Places from our collective and personal histories help define who we are even as they remain fluid and ever changing in our mind's eye. These artists consistently explore how true or fictionalized our memories can be, and how accurate or inaccurate recorded history truly is. Searching for and finding our place, both spiritually and physically, often drives an entire life's meaning. The ever-shifting landscape, filled with false histories, be they personal or historical, drive these artists in their quest for higher meaning.
Exhibiting Artists: Gertrude Abercrombie, Theaster Gates, Amy Honchell, Kelly Kristin Jones, Bobbi Meier, Robyn O'Neil, Nina Rizzo, Alison Ruttan



Pictured above:
detail, Breaker, Shaft, Shifting Ground II, 2015-2021
Glissenette, woven textiles, thread, scale lumber, styrene plastic, wooden spool, metal, brass gears, acrylic paint, ultrafine glitter